DMZ Combined Tour
Select
₩ 85,000
₩ 100,000
DMZ Combined Tour
Entrance to the 3rd Tunnel, Dora Station & Observatory, Odu Observatory, Imjingak Park & Freedom Bridge
Q&A with North Korean defectors
Round-trip bus service from Seoul
Admission fees
English-speaking tour guide
Lunch
Access to the JSA or Tongil Bridge
Personal expenses
Traveler's insurance
Must book at least 4 days in advance
Why This Offer
Get a unique insight into the division of the Korean Peninsula and life in North Korea from a North Korean defector
Go down into the 3rd Infiltration Tunnel, built by North Korea in the 1970's to ferry troops into South Korea before it was discovered by South Korean forces in 1978
Visit numerous historical sites around the DMZ, including the Freedom Bridge, Imjingak Park, Odu Observatory, and Dorasan Station & Observatory
What to Expect
Get an intimate, alternative look at the division of Korea through this premium package that includes an hour and a half lecture from a North Korean defector and a tour of numerous sites along the DMZ, including: Imjingak Park, Freedom Bridge, 3rd Infiltration Tunnel, Dorasan Station, Dora Observatory, and Odu Observatory
You will first need to meet our staff at the Koreana Hotel located in the city hall. You can get to Koreana Hotel by taking the Seoul Subway.
1. Take Seoul Subway Line 5 to Gwanghamun Station and go out Exit 6 then follow the directions in the picture.

2. Go straight 100 meters (1min) and you will see Koreana Hotel on your right side.
Then it's time to head over to Infiltration Tunnel #3, which is one of four known tunnels under the border between North Korea and South Korea. The tunnel was discovered by South Korean soldiers in 1978, located just 44 kilometers from Seoul. It was estimated that 30,000 North Korean soldiers could move through the tunnel per hour with light weaponry. It has since been barricaded by the South Korean military and converted into a tourist attraction.
Guests are then brought to the final railway stop before the DMZ, Dorasan Station.
---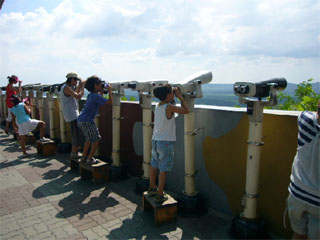 Then you will explore Dora Observatory, first opened on January 1987, for an immaculate view of the DMZ and a look inside North Korea from the closest point to the North. There are binoculars that you can use for 500 Won for 2 minutes closer glimpse into a closed-off country.
For Lunch, you will have Bulgogi meal. (Vegeterians can enjoy a Bibimbap meal.) 
Guests are then taken to the
Odusan Observatory
, the five floor high building with observation decks on almost all floors. Located right at the meeting point of the Han and Imjin Rivers, the observatory gives visitors a glimpse into North Korean folks farming and working in the fields across the river.
---
Then a documentary titled, "Today, Tomorrow, and the Reunification of the Korean Peninsula", will be shown before listening to a speech given by North Korean defectors. After the speech, there will be a Q & A session and tour of the Unification Exhibition Hall. For tours of 50 or more people, a special performance by an art troupe of North Korean defectors will be shown.
Arrive in Seoul (Drop off at Koreana Hotel)
5:00 pm
Show All
Important Information
Booking Process
Complete the payment and you will receive an instant confirmation email and receipt.

The voucher will be delivered to you once the reservation is confirmed.

If you haven't received your confirmation email/receipt, please check your spam folder, or check your "My Page" in the WorknPlay homepage.

Please send a scanned copy of your passport with the booking number on the voucher to travel@worknplay.co.kr after receiving the voucher.

Your booking will be cancelled if you fail to send us the copy of your passport along with the booking number on the voucher.
How To Use
Print out or show the voucher on your mobile device at your departure point.
Please arrive at least 10 mins before the scheduled departure time.
Voucher Validity: Only on the chosen date and time.
Your passport will be needed to confirm your identity at the military check points
For Korean nationals, your ID with your citizen registration number will be required.
Additional Information
Your admission will be denied if you fail to bring your passport (foreigners) or ID (Korean citizens), in that case, no refunds will be given.
Adult and child prices are the same.
Please dress modestly. Refrain from wearing mini-skirts, open-shoulders, sandals or slippers.
Do not attempt to communicate or make gestures toward outside military officials.
As locations such as the DMZ are managed by the Republic of Korea Army and UN Officials, itineraries and trip schedules are subject to change.
Follow the staff's instructions and meet back at the designated time. The bus leaves strictly on time and will not wait for late-comers.
Cancelation Policy
100% refund: For cancelations made at least 3 days before the reserved tour time (Based on local time).
If the minimum number of people is not met for the trip (minimum of 15 people), then full refunds will be provided.
Tour operates per normal even if it rains or snows.
Free date change or cancellation permitted only in case of government-issued warning for natural disaster.
No refund: For cancelations or changes made less than 3 days before the reserved tour time.
No refunds for latecomers and no-shows.
Organizer