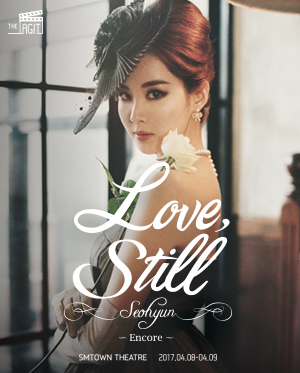 Girl's Generation's Seohyun who has fabulously transformed into a solo artist will hold an encore of her first solo concert, Love, Still – Seohyun – Encore.
Date: April 8~ 9, 2017
Time: 5pm (both days)
Location: SMTOWN THEATRE coexartium
Host: S.M.ENTERTAINMENT
Managed by: DREAM MAKER ENTERTAINMENT LIMITED
This concert is an encore concert of Sohyun's first solo concert held last February. There are various performances prepared starting from her solo album 'Don't Say No', hit songs of Girl's Generation to musical songs where Seohyun's attractive vocal and performances will come together harmoniously.
Notice on ticketing:
1. Maximum of 2 tickets per person allowed
2. Tickets can only be bought at http://ticket.yes24.com/Pages/Perf/Detail/Detail.aspx?IdPerf=26572&Gcode=009_109
Click on the date you wish to go located on the right-hand corner and click on the red button.
3. Some seats may not be able to show the full stage depending on the angle.
4. Tickets can be retrieved or bought in the venue beginning from 1hr and 30 minutes before the concert and valid ID must be shown to retrieve the ticket.
Notice on the concert:
1. Doors open an hour before the concert. After the concert starts, you can only enter at specific times and may be led to a seat that you did not reserve.
2. Filming, taking photographs and recording is not allowed.
3. No drinks allowed except water with a cap
4. This concert does not accept gifts, flowers, and fan letters.
5. Taking public transport is recommended because the parking slot may be full.
For those who brought their own car, Coex Basement 2 Parking slot (section A and D) is near to the venue.