The Seoul Museum in Buam-dong will be hosting a special exhibiton of Shin Saimdang's artworks until June 11, 2017. The exhibition, "Saimdang, Her Garden," marks the 5th anniversary of the museum's opening. Shin Saimdang, also known simply as Saimdang, was a famed Joseon-era painter and poet who lived during the 16th century. There has been growing modern interest in her life and art and Hallyu fans may be familiar with her through the recent K-drama series portraying Shin's life, "Saimdang, Diary of Light."
*"Saimdang, Diary of Light" is currently being aired in SBS every Wednesdays and Thursdays at 10pm.
Visitors will be able to see an array of Shin's work and appreciate her artistic aesthetic through the exhibition. Shin's artwork tends to have clean lines and natural symmetry. The works on display are superb examples of Eastern art thus visitors will be able to see the kind of art that was popular during the Joseon era.
To give a little background on Shin Saimdang, she lived during the middle of the Joseon period and she is best known as being the mother of the famed Confucian scholar Yulgok. Though Shin's image mostly revolves around her reputation as a wise mother, she is also notable for her achievements as an artist and writer during a highly patriarchal era. You may also be familiar with the Confucian scholar Yulgok as he appears in the 5,000 won note while his mother, Shin Saimdang, appears on the 50,000 won note.
*Above is the 5,000 won note printed with the scholar Yulgok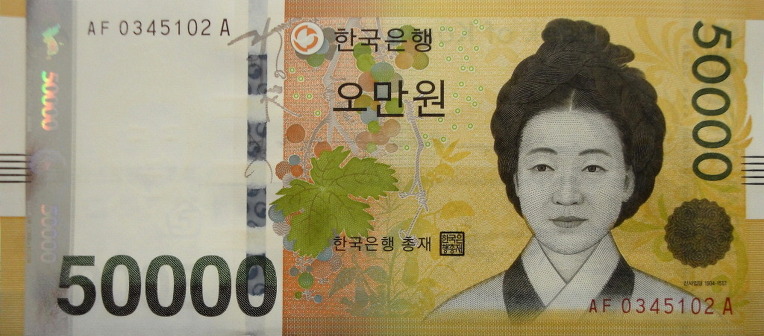 *Above is the 50,000 won note printed with Shin Saimdang
Period
January 24, 2017~ June 11, 2017
Address
03021 Seoul Museum, 4-1 Changuimun-ro 11-gil, Jongno-gu, Seoul
• Phone
+82-2-395-0100
• Fax
+82-2-395-0170
• Website
http://www.seoulmuseum.org/nr2/?c=exhibition&memoryuid=52
* Do note that it's in Korean
• Hours of Operation
Exhibition Hall | 11:00-19:00 (last entry 18:00)
Seoul Museum Park | 11:00-18:00 (last entry 17:00)
• Holidays
Closed Mondays
• Days of Operation
Tuesday-Sunday
• Important
50% discount on admission for Culture Day (last Wednesday of every month)
• Fee
Adult | 9,000 won
College Student | 7,000 won
Youth (High School, Middle &Elementary School) | 5,000 won
Child (3-7 yrs. old) | 3,000 won
Senior Citizens; Disabled Visitors | 7,000 won